Happy Thursday! Oh man, friends. I'm just going to jump in. Last night I sat at my computer gearing up to write this post for a couple of hours. I came home from dropping my sister off at the airport, sat down to eat dinner with my husband, then opened up my laptop all ready to go and BAM. Sat and stared. It was 11:37 pm on Wednesday night before I even started it. This is a lot of my life + my heart. Fair warning, this is a long one!
If you caught our blog post last week, the one where I talked about our goals for 2017, you probably saw that one of my goals is to be more personal in the ways I pursue my business, and give you guys a glimpse into my life as well. It's definitely going to take some getting used to! I love showing you what we've been up to, the couples we've gotten to know, the shoots we've produced, but as soon as the attention is on myself, well, it's just a little different. But I'm a huge believer of getting to know the person + people behind the business, so I'm putting my money where my mouth is. I want you guys to know me, too. Plus, I've also always wanted to start a personal blog, and I've toyed around with the idea once or twice and then let it fizzle out, but I figured it was time to combine the two passions a bit. I'm excited to share my life with you more this year, including right now, where I tell you all about 2016: One of the worst + best years of my life.
---
I know that 2016 has gotten the reputation of being the worst. I feel like everywhere I look on the internet or every conversation I have, we all come to the same conclusion about how sucky it was. It's basically a running joke now. And I definitely partake in it, the drama! Don't get me wrong, on a broad scale, I totally agree — there were lots of things in our world that saddened me and made the year stick out worse than others. I feel like I cried a lot for the world around me for the first time ever. But this year for me, every time I talked to someone about how hard 2016 was, I felt like I was crying inside and wanted to grab onto he/she and say please. really. i'm not just conversing. i'm not being dramatic. this was a bad year. hold me while i cry some more? I bet you're pretty happy I didn't go through with saying all that if I had one of these conversations with you 😉
However, as bad as the year was — I'd first like to dive into something good. Grateful hearts first. It also so happens that a lot of these things were in actual chronological order (as you'll read, a lot of these things I'm about to talk about happened in only two weeks or so). But still, I always like to start my posts or my reflections in a grateful stance. 2016 was good. There were good things. One of those good things was opening our studio downtown, Zurie CoWorking. This was one of the scariest, biggest things I've ever done in my life. Starting this studio was such a big risk, we had really no idea what it would evolve into or if it would succeed! It was just a few of us girls with a crazy idea to open a studio so we could get out of our homes and work alongside each other. I love it. It's the freaking best. Besides Sam (she's been my person for so long now), Heather and Jenna have become some of my best friends. It's the best.
However, as great as the studio is and us much as I love everyone in it (Evergreen Flower Co., Jenna Powers Photography, Inkwell & Co., Amanda, The Bride Bar — check them all out, please!) it was really hard to get it up and running. At the time, I was still working my full-time office job, managing Events Held Dear, and trying to get the studio off the ground with the girls. Finding a studio, signing for it, remodeling it, buying furniture, building furniture, finding other people that wanted in — trying to get it all ready for us and others to move in was absolutely exhausting. I owe a lot of it to Heather and Jenna, since Sam and I were working full time and couldn't be around as much as we wanted to be. But all the same, it was hours and hours of preparation and money and stress… it was great, but definitely a lot to handle. It felt impossible at times.
The same week we opened the studio, my dad was diagnosed with cancer. He had found a lump in his neck a few months prior, and finally went to the doctor, and it was confirmed. It feels really surreal writing this out… it was some of the worst news I have ever received. I can feel myself choking up and breathing faster as I type. Which leads me to believe there really is something so moving + therapeutic about writing, because I'm feeling allllll the feels again right now, but it also feels very freeing.
My dad's cancer was Stage 4, in his neck, throat and tongue. He pretty much started all of his treatments right away. He had radiation at Riverside every day, and went through three rounds of chemo. When my dad was diagnosed, they told him it was a very treatable cancer, which was such a relief to us — you can imagine how we felt after hearing Stage 4. It was terrifying. I instantly thought of that as a death sentence, even though everyone was trying to be upbeat. What they didn't tell us was how aggressive a treatment it was, and how difficult it would be for my dad. Because the cancer was in his neck/throat, receiving the radiation in this area was extremely difficult on him. Not to say other cancer patients don't experience the hardships of their own, but after my dad's treatments, the nurses admitted they kept it from us how difficult the road ahead was going to be. It was one of the hardest things for me to watch him go through, and I'm sure my family would say the same. The treatments caused my dad to lose his sense of taste completely, worsened his eyesight and impaired his hearing, caused sores to develop on the outside of his skin, inside his throat, and on his tongue, caused his hair to fall out, and by only a couple of weeks in, my dad couldn't speak because of all the sores that had developed in his mouth. His throat and mouth were so swollen and in so much pain, he couldn't even drink a glass of water without choking. Because of all this, he had to have a feeding tube placed, since he couldn't eat food due to the sores and swelling. He was raw. He lost a lot of weight, and was pretty much couch-bound for the entire summer. Seeing my dad with a feeding tube…. I hated it. It was terrible to see my dad unable to eat for months and fed by this thing instead.
Praise God, I'll go ahead and tell you, my dad is now cancer-free. And I could go on and on about how happy I am about it. I am. It was fast, in comparison to how long a lot of other people have to go through treatments, again and again. My heart breaks for them. I feel like I now understand cancer and how terrible it is. All these years I thought I understood it (I worked in hospice for several years), but until it hits your family, I don't think you really do. I'm so glad he didn't have to endure more. But as short as the entire process was (right around four months), all of those side effects made it seem like eternity. I almost feel as if it's hard to tell people how truly hard this summer was, watching my dad fade away to weighing as much as he did, only being able to communicate by writing on his dry-erase board.
Here we are, me cutting his hair — this was always my job, shaving away the awkward parts that didn't fall out. He asked for these pictures to be taken, so it's only fair I post them now. I guess as much as I don't like it, it's nice to have some documentation + memory of it. I like his smile in the first one.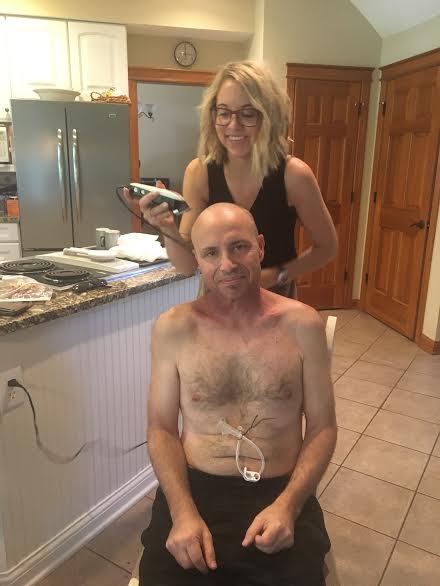 About a week after my dad was diagnosed, and shortly after the studio opening, my grandma tragically passed away. It was very sudden and harder than I thought it would be. My grandma was my last living grandparent, and we definitely weren't close. She lived with my parents for ten years, and a lot of that time I was in high school, but she was a difficult woman to get to know. She had her own place this summer, and had apparently fallen into the bathtub and couldn't get up or get to a phone. We didn't hear from her for two days, but it was pretty normal for her not to answer her phone. When the police and paramedics found her, she was delirious and very dehydrated. They took her to the hospital where my mom met her. My grandma ate, felt rested and appeared to be doing better, napped, and woke up in a startle — my mom went to grab a nurse because she was having trouble breathing. She came back 30 seconds later and my grandma was gone.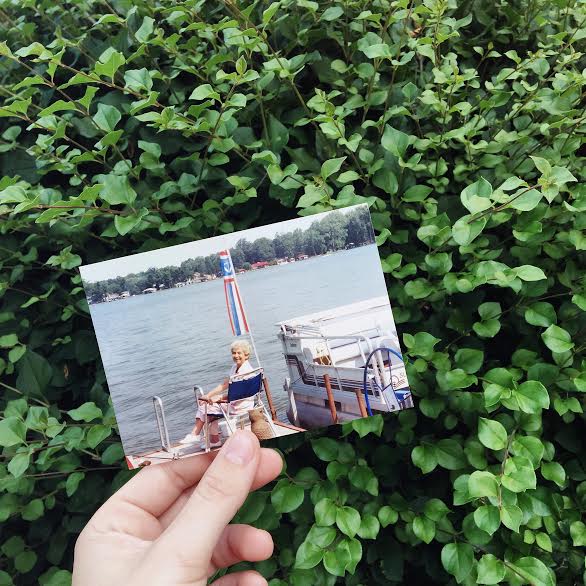 I felt a lot of guilt this summer for her death. I think my mom struggles a lot with not going over to her house sooner when she didn't hear back from her, and I feel guilty and sad that I didn't go to the hospital right away to see her. I got the call she was there and decided I would visit the next day. But I know it happened and we can't go back and change the things we did or didn't do. None of it was on purpose. But it was another wave of emotion and sadness that my family and I were trying to cope with. I just remember helping my dad walk to her grave, he was already so weak and could barely stand, and all I could think was how in the world is all of this happening right now?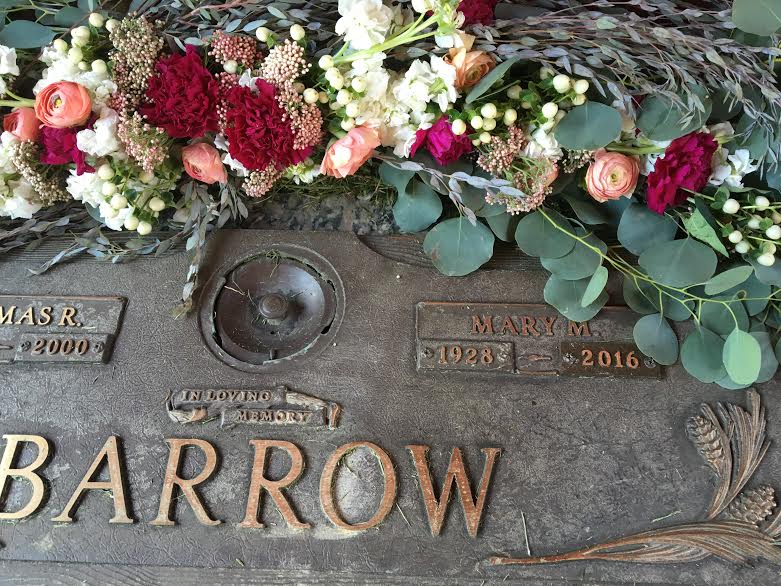 Oh goodness, this is hard! If you've stuck with me this long, thank you! I'm proud of you. This has been way harder than I thought. I've cried multiple times while writing this! I bet when you thought "Oh Leda's gonna get personal now" you had no idea it would be so much! Trust me, neither do I. Woof. 2016…. You were a lot.
---
At the same time my dad was diagnosed, my youngest sister found out she was pregnant. I know I know, not a bad thing! Not at all! My niece is now my best friend in the whole wide world, we call each other all the time, have a secret handshake, we're the bee's knee's — totally kidding. She is only 4 weeks old 😉 But seriously, she is THE best. However, when my sister Shannon got the news in the spring, it was a big surprise and really scary. It was just another big emotional event in my family that we felt we couldn't handle and weren't prepared for. After all, she is 20 years old and wasn't planning for this in any way, shape or form. It was a lot to handle this news in the midst of so many other hardships, trying to talk to my sister and see how she felt about it all and what she was going to do.
Obviously, we are thrilled that Ellie is here — I mean, look at her!! Can you tell I had fun on my iPhone trying to catch an artsy picture of her? 😉
Bad news, phone calls, grief, worry, exhaustion, stress – it was just one emotion after another this year. Of course while all of these life events were happening, I was still working my full time job and watching this company of ours flourish. We had double the amount of weddings in 2016 than we had in our first year of business, and it was incredible. But is was a lot to manage. I was exhausted to no end, and it caused lots of fights between my husband and I. We were both just so tired.
Coming out of 2016, I'm just so excited. I literally could not wait to put that year behind me and jump into the new one. I feel like I learned a lot in 2016 that changed me as a person, and a business owner:
I learned a lot about Grace and that we can't control our own lives. I learned that taking time to slow down is good and to be thankful for what you have. I learned to pick myself and keep going, no matter how hard things get. I learned to dig deeper into the friendships that were waiting right there for me with open arms. I learned to value my family more. I learned how to heal from a past friendship that left me devastated and grieving for two years. I learned how to forgive more. I learned to love people a little harder, since we don't always know what we're going through.
---
I don't know if I can thank those who were with me this summer enough. Can I start with my brides? My goodness, we were so lucky and blessed with our brides. Almost all of our brides knew about my dad, and the kindness and compassion they showed was amazing. They wrote me letters, got me gifts, prayed for him. I am so lucky.
My friends and family that were there for me this summer as well… I'm just so thankful for you. Your kind words and texts and letters and prayers helped me to keep moving forward, even when the year felt unbearable. 2016 really was the worst year – I have never had so much sadness and hardship along with the busiest season of Events Held Dear, and just life in general.
To end, I want to say one more thing. It's not true that "God doesn't give you more than you can handle". This is a line people constantly throw around, and I hate it every time I hear it. He definitely does. He throws us into situations that are bigger and worse than we can ever imagine. I couldn't handle this year — I really couldn't. If my husband could tell you how many emotional breakdowns I had, well, he definitely could. I could not handle this year. It was more than I could handle. It felt impossible. But the exact outcome of it is, He does give you more than you can handle… and that's when you turn to Him. If it wasn't for my prayer life + my friends + my family, I never would have gotten through it. He did give me more than I can handle, but it ended in me diving into my faith more than I ever had.
Bye, 2016. I will not miss you.