Hip, hip hooray! A blog post about the studio we've owned since May!
2016 has been the best year yet! If you follow us on Instagram, then you probably already know that because we talk about it all the time! But that's because we really mean it, with all of our hearts. This year has brought so many blessings to us as individuals, and as business owners. It's been one busy year, and we're so thankful for that. We've doubled the amount of weddings we've had the pleasure of being a part of since 2015, and have met so many fun people along the way. We've learned a lot, and still have so much to learn still. We know we are still young and new to owning a business, and new to the wedding industry as a whole, and we're not afraid to admit it!
As our business grew at the beginning of this year, we were contemplating lots of different ways to help it grow even more and reach more engaged couples. Lots of things we have done/thought about doing, for example:
Blogging on a more regular basis (heyy-oooo!)

Visiting venues/bridal shops and introducing ourselves

Posting frequently on Instagram

Getting an account on The Knot (ehhh, we'll see!)

Grabbing coffee and just hanging out with vendor friends in our area

Going to a lot of vendor meet-ups/events!
Of all of these ideas, never did we ever think that opening a studio would be a reality. Sure, we had thought about it before! As young creatives and business owners, we always thought it would be an awesome idea. We see other people on the internet or Instagram or in Columbus and think "That would be so badass". But when you're starting out and so young and newly married, the thought of taking a large chunk of your already small paycheck to pay for a space…. yeah, wasn't really something we were taking seriously 😉
It wasn't until Heather of Evergreen Flower Co. reached out to us about starting a creative space, that we really started to think about it as something that could really happen. And it was a big, crazy, scary idea! Heather, Sam and I weren't really good friends at that time. Actually, at a wedding in October of 2015 where we were all wedding vendors, we had met in person and all squealed with delight. It kind of ensued like:
Leda reaches out hand to shake Heather's.
Heather goes in for the hug. WIN!
Needless to say, we were all pretty nerdy when meeting one another. We were excited to meet her, and she was just as excited to meet us. Dork-city established, 2015.
So bringing us back to March 2016. Heather also asked Jenna of Jenna Powers Photography to join us in our adventure. She is the sweetest person on the planet. She is quiet and humble. She is darling. Go find her now.
A couple of months of searching for the perfect space begins. We worked with a wonderful broker from Columbus who emailed, texted and called us about potential spaces SO many times. I think she looked into 100+ spaces for us. None worked out, until we found what is now ZURIE, off of Gay Street.
It all flew by so past. All the four of us knew was that we wanted a space where we could work on our own businesses, but also knew we couldn't afford to do it on our own. That's where this "creative community" idea kind of presented itself. We wanted to create a space where we would have our very own workspaces, but also open up other spaces where other artists/small biz owners/creatives could rent out and be a part of it with us! Our goal was (and still is) to have it very community focused, driven, and of course, super supportive. When you're surrounded by other business owners that are hustlin' just as hard as you are… it's the best.
It was the scariest thing in the world to sign that lease. Like… I know we're adults… but holy cow! Now we're OFFICIALLY adults! 😉 If you've ever signed a multiple-year lease, with a huge deposit, in a downtown fancy restaurant, with an attorney, broker, owner, THE archuitect of THE building, and notary having you sign papers, and random people in the restaurant buying you drinks in fancy suits congratulating you… then you understand what that night was like. Hands down one of the most bizarre nights of my life, because it felt SO unreal! To go off of that though, our studio is right above the restaurant Due Amici, and the staff has been amazing. They have been super excited for us, and so supportive! They bought us shots and took us up to our space the night we signed and congratulated us. Multiple times they also brought us up dinner when they knew we were in the studio working late into the night, free of charge. They're very sweet, and it's been fun working alongside them.
Coming up with a name for the studio was difficult. We had the space, construction was starting and we knew we had to come up with something. We wanted it to be simple, and can we be honest for a sec?! — Coming up with a business name is HARD! So much pressure, guys! It's like, we wanted it to be cool… but not like, we tried too hard… ya know?! Oh, I am laughing while I write this, because I think every business owner goes through it. We brainstormed back and forth for weeks, all texting each other. One day I started googling baby girl names, and came across French names, where I found Zurie. The name means "white and lovely" which ended up being perfect, because we wanted the space to be crisp, clean, minimal design and ALL white! So, ZURIE it was… Thanks to yours truly 😉
Construction began in the space and took about a month — I wish we had pictures of the before, but honestly, you're not missing out. Just imagine lots of walls up, segregating the space into different rooms, drywall covering the brick (WHY?!), and brown walls and a silver ceiling. Now, the space is wide open, exposed brick walls, white brick and drywall walls throughout, white ceiling, white tables and chairs…. WHITE WHITE WHITE. Told ya we loved it 😉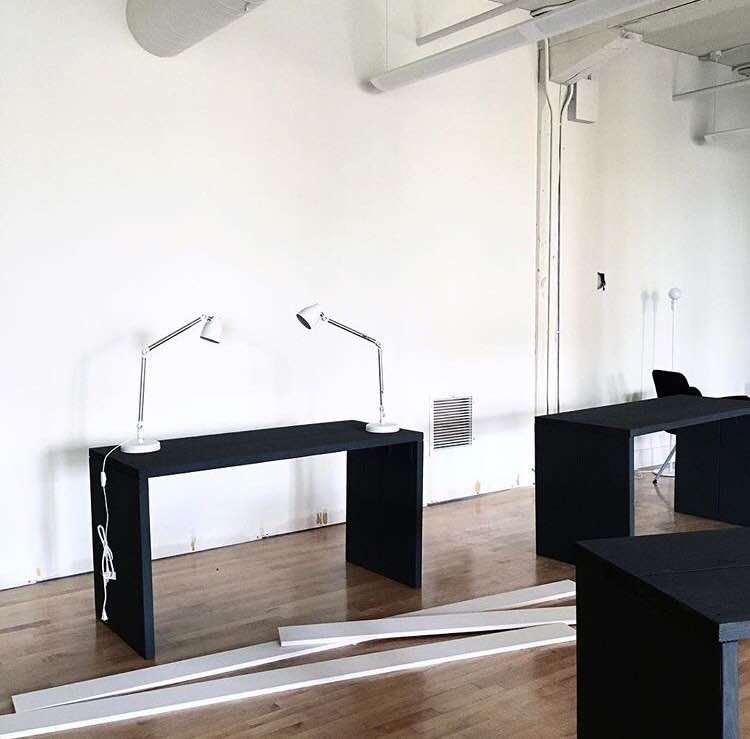 This space is definitely one of our best moves. We get to work directly alongside some of our now best friends, other talented vendors, and be inspired every day. We have rented out desks to other vendors — one of them being Taylor of Inkwell & Co., who is so fun and talented! We get to host workshops, photography sessions with our backdrops, and so much more. We still have a couple of desks available for rent, and we'd love if you were interested. All you have to do is visit our website, zurie.co and shoot us an email. And we'll get you in the space to come see it! Or if you want to host a workshop or have your own photoshoot against our beautiful brick walls. Below is a photo of a photoshoot Jenna Powers Photography put together with B.Loved Bridal and NomLife!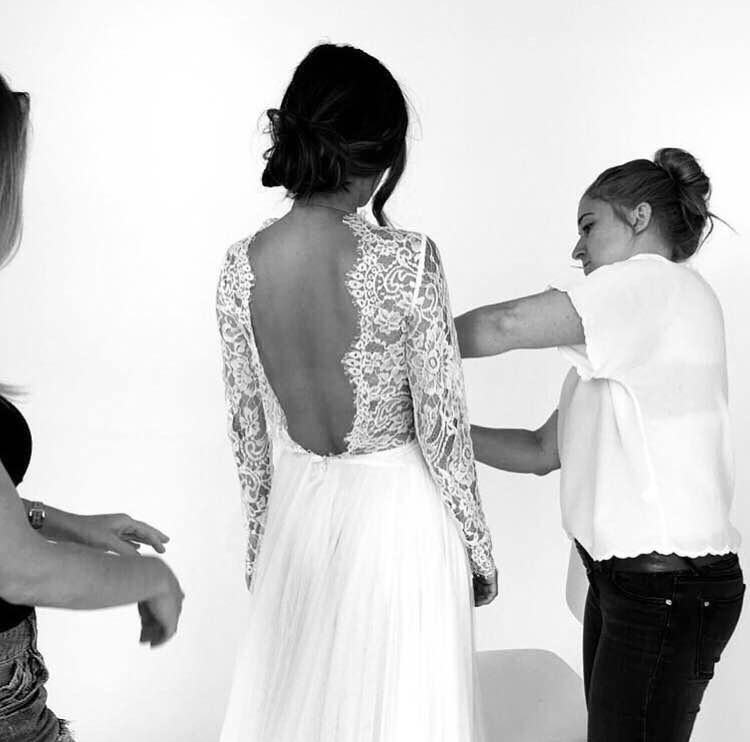 We're so thankful we took this leap and made this studio a reality. It's one of the most fun things we've ever done, and we feel so blessed that we were able to make this happen.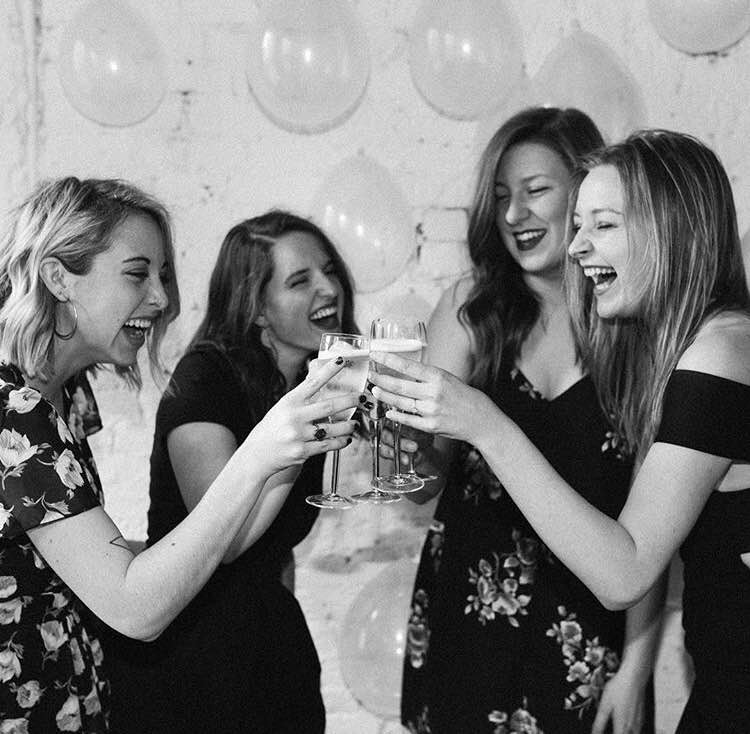 Photo from our opening party!
Check out all of our photos below of the space. Reach out to us if you think you want to get out of your home office and into a space surrounded by other creatives, want to rent out the space for an event or host a workshop, or want to take some photos here. We want to meet you and create with you!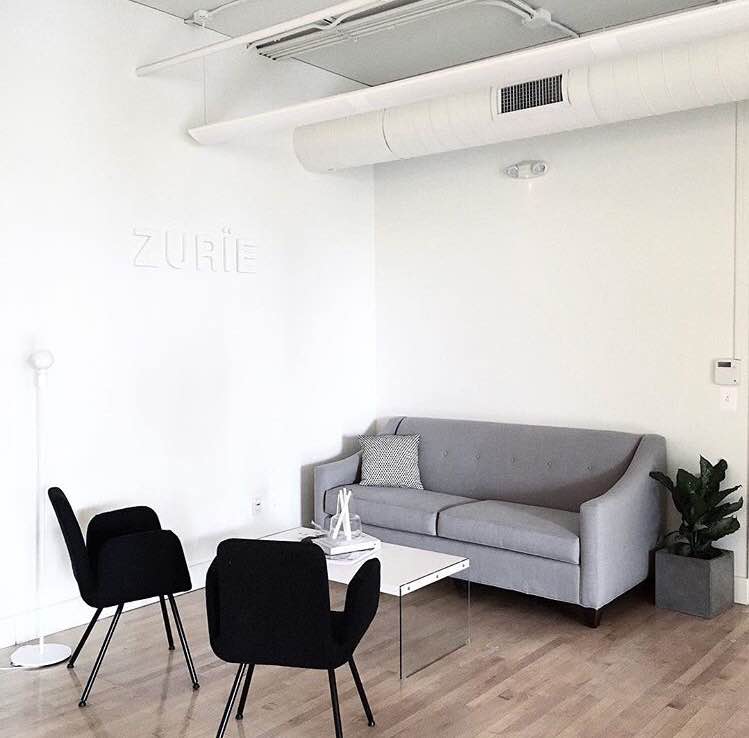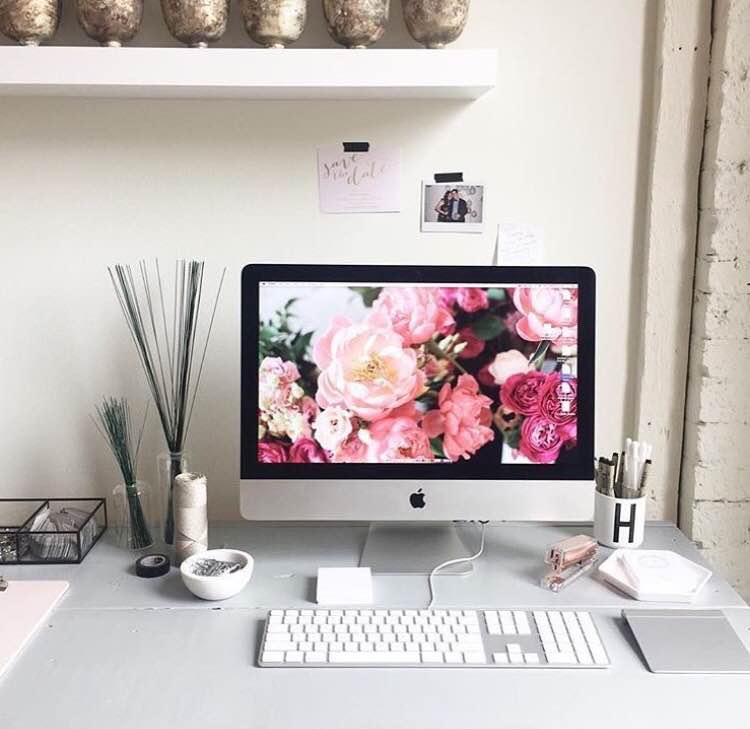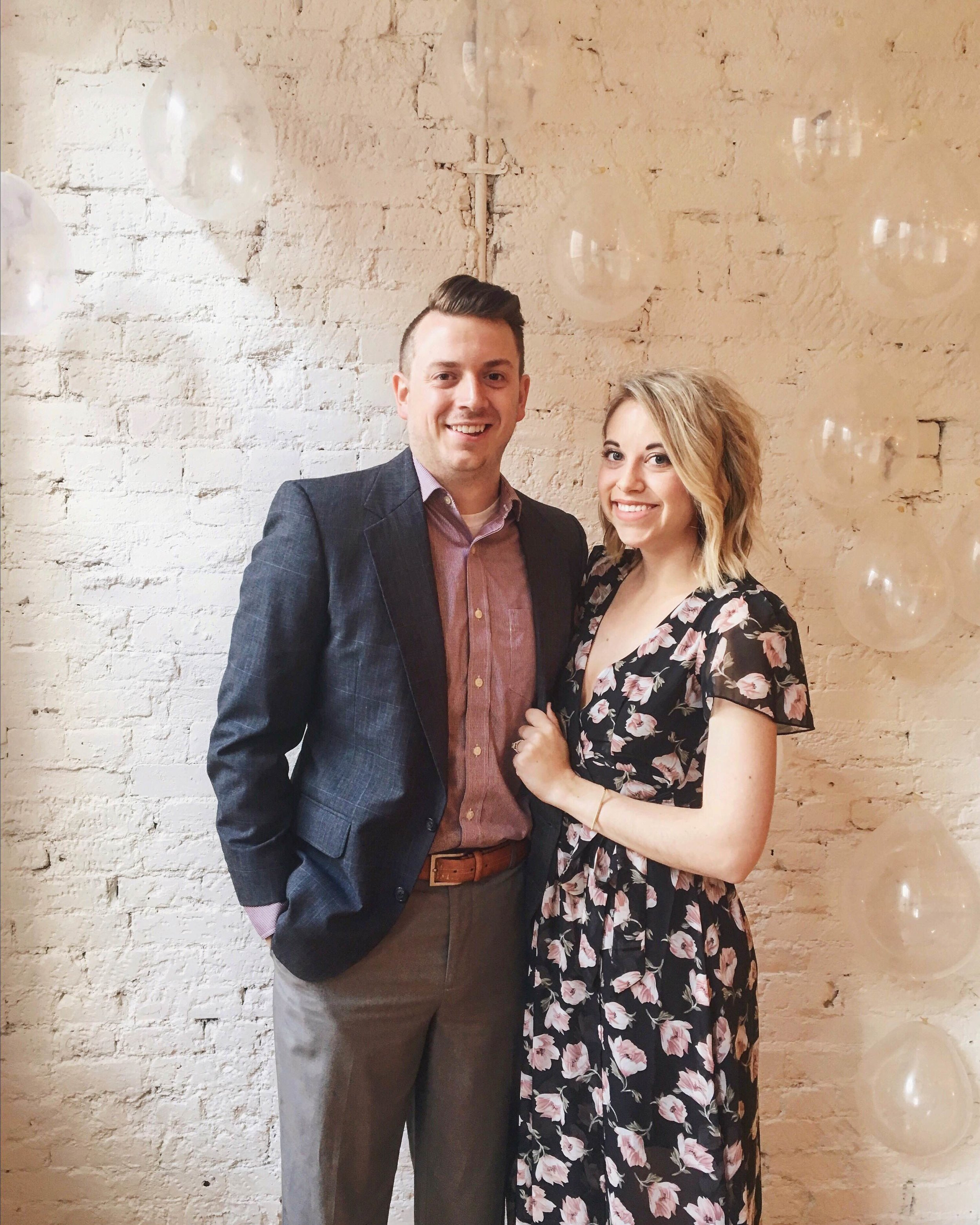 Oh, just the both of us with our husbands at our grand opening party!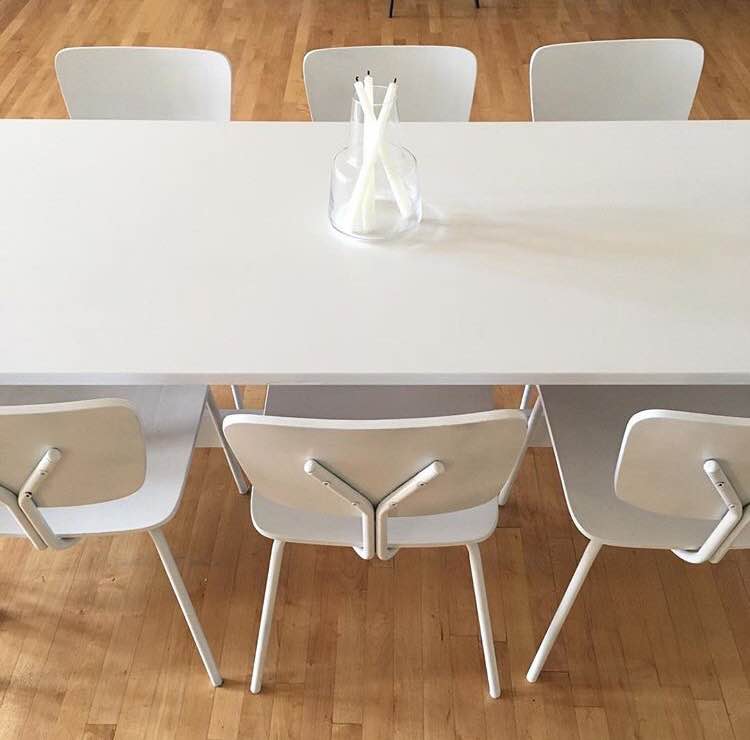 Our community table.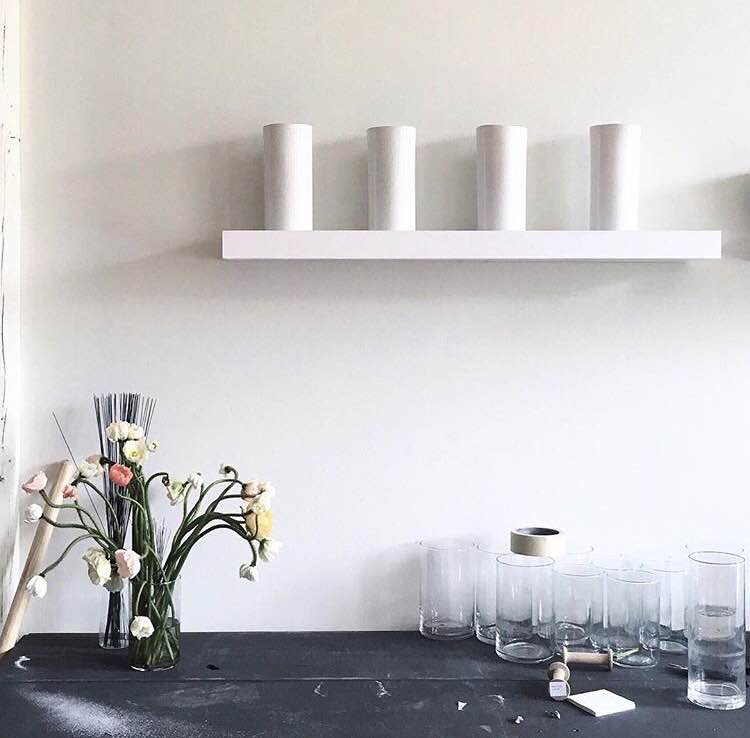 We really hope you'll take the time to reach out, and come say hello! Visitors welcome, just let us know 🙂