Well, actually, when I saw "we", I really mean me, Leda! My husband & I recently moved into our new apartment a few weeks ago. We are a whole lot closer to the city, we can walk across the street to get groceries (woohoooo, so adult!) & we get sooooo much more natural sunlight. I love it so much already! When we were moving in, Sam was being her ever-gracious self by helping us move all of our stuff into our new place, and then she proposed we have a house-warming party. I'm not really into having those, not until I have an actual house anyways, but she put it into our shared calendar. (Side note: this shared calendar is one of the BEST things we have ever done as business partners. It is a life saver!)
The weekend before last, I realized her birthday was right around the corner — April 11th, so you better believe she's gonna get some social media love then, too! I texted some of our close friends & her husband Jordan, & we all decided to go for it. The whole time leading up, Sam thought it was my house warming party, so it's not really like we had to trick her 😉
Our friend group is so great. So many people made cakes, brought other desserts and side dishes, and so many people came! I was so excited that she really had no idea. Of course, I'm no photographer, so I just thought I would include some iPhone pictures of the night. I don't have that many, but that's okay! I was busy having fun 😉 Also, these paper fans from Paper Source are SO fun! I wanted to buy them all.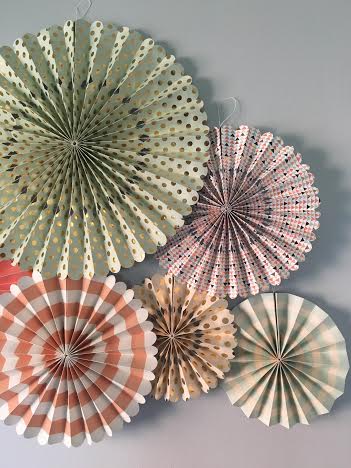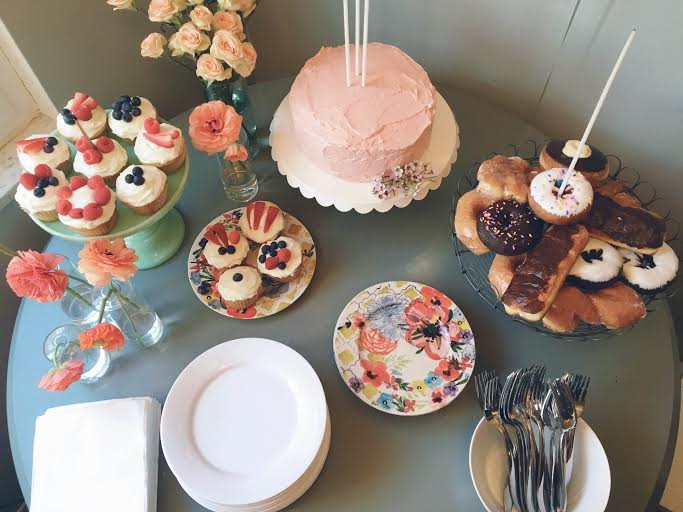 It was so amazing seeing so many people from different areas of our lives come together. In case you have't figured it out by now, Sam & I are basically sisters. Conjoined, maybe? I mean, the first 2 years of our marriages, I lived right below her. That's right, every bad texter's worst nightmare… she wouldn't respond & I could just walk up the stairs & knock on her door 😉 HA! But seriously, is was so fun. We do everything together, from this beautiful business, to our friend groups, to our bible study. We've known each other for a very long time. To see people from our personal & professional lives come together in one room to love her was so great. My heart was happy.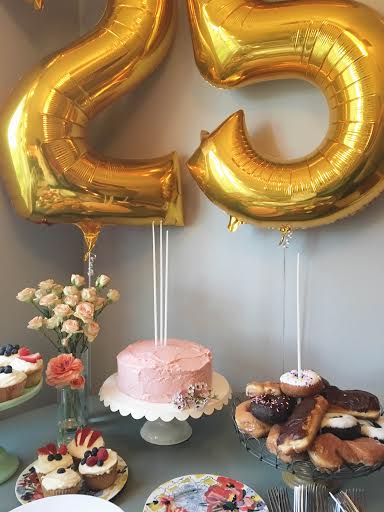 Donut tower is pretty cool, eh? I couldn't wait to stick that funky tall candle in the middle of it!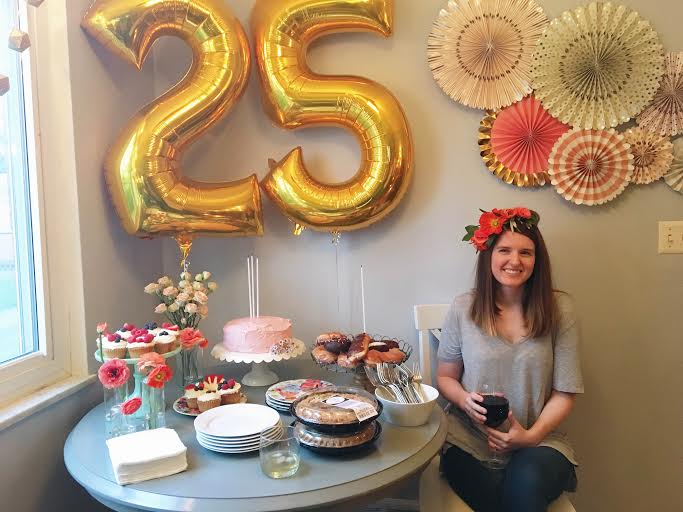 And that floral crown? Sam's favorite flowers are poppies, & our wonderful friend Heather of Evergreen Flower Co. hand made this for her! So amazing.
I love you, Sam. I am so incredibly thankful for the woman that you are. You are kind, beautiful, loving, gracious, creative, talented, remarkable, driven, honest, ambitious, a great wife & a great friend.
I am blessed to know you. So are those of you who know her, too!
xo,
Leeds